Regular price
Sale price
£42.99
Unit price
per
Sale
Sold out
Deep Sleep Support
Trouble sleeping? Take back control and reduce difficulty falling asleep, staying asleep and achieve a deep sleep throughout the night leaving yourself fully restored and fresh the next day. 
Benefits:  
Reduces time taken to fall asleep
Decreases middle of the night wake-ups
Increases duration of deep sleep
Reduces and eases symptoms of insomnia
Relieves sleep disturbances caused by hormone changes
Leaves you feeling fully restored and fresh the next day
60 capsules, 30 day supply
 '' I'm fundamentally a happier and healthier person since fixing my sleep. I lost so many years with my insomnia, but it's now a distant memory. ''
Ingredients That Increase Sleep Quality and Quantity

[5_HTP]: Regulates a normal sleeping pattern and increases sleep quality by improving deep sleep time also known as NREM. Study A

[Valerian Root Extract]: Helps to reduce the time it takes to fall asleep and promotes a deeper more restful sleep. Study B

[Choline]: Improves regulation of the circadian rhythm and natural sleep/wake cycle and long-term enhancement of REM sleep. Study C

[Lemon Balm]: Eases symptoms of anxiety and insomnia which improves sleep quality. Study D

[Zinc]: Contributes to normal cognitive, sleep and immune system function and has calming effects on the brain resulting in improved sleep quality.  Study E

[Hops]: Supports hormone balance,restlessness, tension, excitability and provides relief of sleep disturbances. Study F

[Vitamin B6]: Helps the regulation of hormonal which can help fight against hormone related sleep disorders brought on by age and hormone related disorders resulting in improved sleep quality. Study G

[L-Tryptophan]: Supports relaxation and restful sleep by decreasing time to fall asleep/increase sleep quality. Study H

[Magnesium]: Improves sleep efficiency and total sleep time resulting in an increase in healthy sleep. Study I

[Ashwagandha]: Helps people fall asleep faster, spend more time asleep, and experience better sleep quality. Study J

[Tart Cherry]: Contains Melatonin which is a sleep hormone secreted at certain times of day to help the body transition to sleep. Study K

[Passion Flower]: Increases GABA production within the body which helps with falling asleep and increasing sleep quality. Study L

 

For every serving (2 capsules) of SleepAlpha™ Deep Sleep + Full Restoration: Vitamin B6 (3.7mg), Magnesium (150.8mg), Zinc (10.12mg), L-Tryptophan (100mg), Choline (150mg), Hop Strobile [Humulus Lupulus L.] Buds Extract (200mg), Lemon Balm [Melissa Officinalis] Root Extract (300mg), Valeriana Officinalis Root Extract (200mg)5-HTP (250mg), Ashwagandha Extract (400mg), Withanolides (0.42mg), Tart Cherry (240mg), Passion Flower (500mg), Rice flour - capsules.
What To Expect

From night one you will experience an improvement in overall sleep quality and quantity. However, that's only the beginning. These improvements will increase over the coming nights allowing you to fall asleep easier, stay asleep for longer and experience an increase in overall quality of sleep. If you do wake up during the night you will find it easier to drift back off allowing your body to complete the required sleep cycles needed to restore the body and mind. You may find that you begin to wake up slightly earlier in the morning because of an increase in sleep quality.


The ingredients in this formula specifically increase two areas of sleep – REM (rapid-eye-movement) and NREM (non-rapid-eye-movement) and we achieve this with only natural ingredients derived from food sources. Deep Sleep + Full Restoration increases both areas of sleep but specifically the area known as deep sleep (NREM). Which is the most important and essential part of sleep for feeling rested, restored and healthy everyday. To learn more about Deep Sleep (NREM), what actually happens during it and why its essential for your health and wellbeing from an external source - click here.
How does it work?

Using 10 of the most bioavailable extracts and amino-acids we help you maintain refreshingly deep sleep, naturally. Our formula is designed to improve sleep quality whilst increasing total sleep duration.

Deep Sleep combines sleep inducing restorative amino acids, herbal extracts and minerals which put your body and mind into a biological state for increased sleep quality and quantity. Unlike synthetic pharmaceutical sleeping pills which leave you in a sedated light sleep, Deep Sleep improves our natural sleep cycle without the grogginess feeling the morning after.

Deep Sleep + Full Restoration is suitable for long term use.
Allergen Information

Quality Ingredients - UK made

Vegan & Vegetarian Friendly 

Free From Allergens

SALSA CERTIFIED

All products produced by us undergo rigorous standards and stringent quality control checks to ensure each batch is safe and of the equal, highest possible standards.
Share This Page
View full details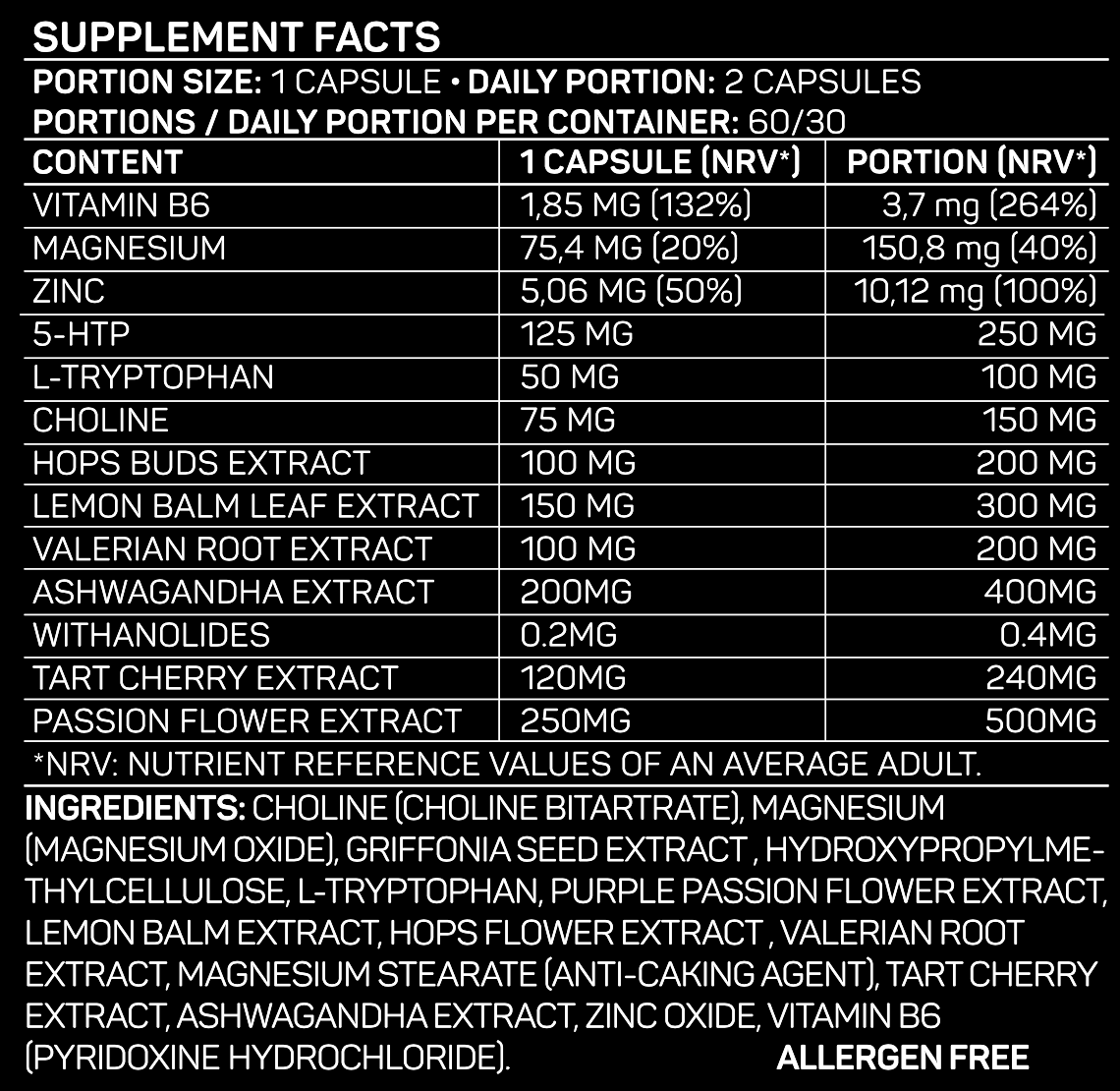 Created By Experts

Engineered using only natural peer patented ingredients in the highest quality form. Our expert sleep physicians crafted together the best natural compounds proven to increase sleep time, increase sleep quality and allow you to wake feeling fresh and rested.

The Solution For A Great Nights Sleep

Deep Seep + Full Restoration provides your body and brain with the nourishment and sustenance to get a well rested, deep and meaningful sleep, night after night.

Take The Stress Out Of It
30-Night Trial
We are happy for you to try Deep Sleep + Full restoration for 30 nights. This way you don't have to worry about potentially wasting your money. Our 30-day money back guarantee stands for 30 days - If you don't feel you have had deep, restful sleep then we will give you your money back.
Free Delivery
We send all bottles out via Ryal Mail 1st class next day delivery to make sure can enjoy the benefits of deep, restful sleep as soon as possible.
Here's what our cusotmers have to say