Regular price
£33.99
Sale price
£23.99
Unit price
per
Sale
Sold out
What Is Blue Light?
Artificial blue light from computers, television, phones, tablets and indoor lighting is directly linked to poor quality sleep by interfering with the increase of brain melatonin - the  hormone that allows quality sleep. If this hormone is low in the evening then our chances of a good nights sleep are very low.  tell me, how much TV, light and smartphone light are you exposed to? If you're like most people, we can agree its probably too much!
When Should You Wear Them? 

Many people have to work at computers or tablets all day and so are exposed to long hours of artificial blue light - we recommend that you should wear these glasses after 3pm to reduce the amount of Blue Light you are exposed to.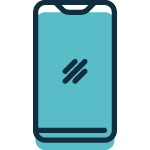 At home our eyes are bombarded with even more Blue Light from phones, LED lighting and televisions - we recommend wearing them all evening right up until bed time to optimum effectivity.
View full details